How 5 Top Stars Share Great Content on Instagram?
---
Today, the number of active users of Instagram is over 200 million. A number of published photos of the day more than 50 milllions, which put likes billion people. How do not get lost in such a large number of photos? How find popular posts?
For promote your account, you need to constantly publish posts, photos that are interesting to your subscribers.
How do you do that?
You can buy advertising on the social network, recruit SMM-manager, who will publish a few posts a day. But the base of your subscribers will grow slowly for several years.
Instagram power
Many international stars of music, film, television use Instagram. Their photos are gaining hundreds of thousands of likes and users - millions.
What content is used popular stars of Instagram?
For search for such content, I used Feedspy tool.
This service allows you to find the most popular posts in Instagram, Facebook, Twitter, Youtube. Using this tool, I found this great content that has the highest ratings. Here are 5 top Instagram accounts and some of their best posts.
1. Taylor Swift
On Taylor Swift signed 59,077,715 subscribers. Posted 813 publications. Taylor is a shining example for others to follow. Let's see it the most popular post that liked 2,643,548 subscribers.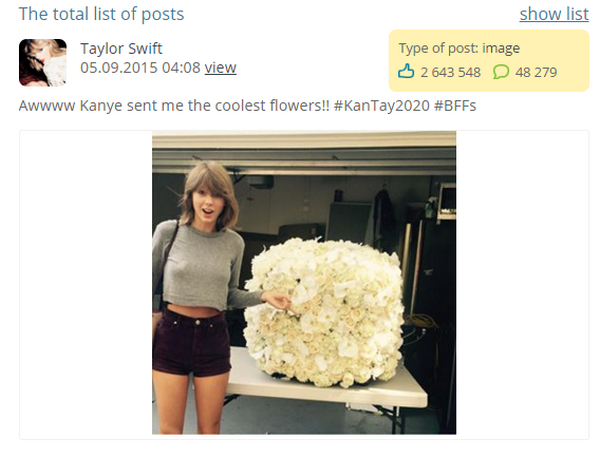 2. Selena Gomez
Number of Subscribers Selena Gomez amounts to 56,143,907 and the number of publications - 1,085. Its post like 2,734,208 people.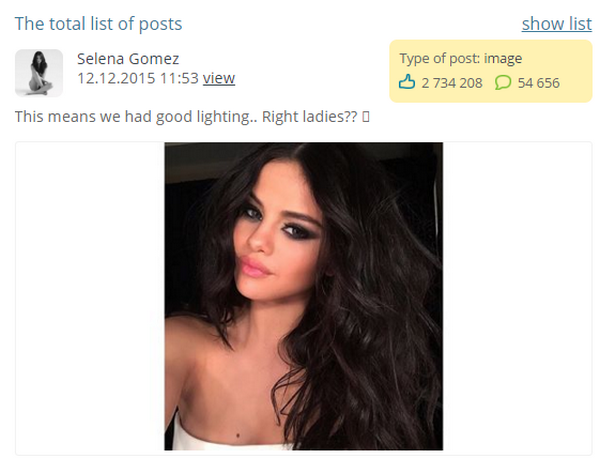 3. Kim Kardashian West
In third place in popularity account Kim Kardashian West. Kim signed at 54,648,158 people. Kim is a global trendsetter.
4. Beyonce
Beyonce - American singer in the style of R'n'B, music producer, actress, dancer and model. It is also popular, its number of subscribers - 53,936,855.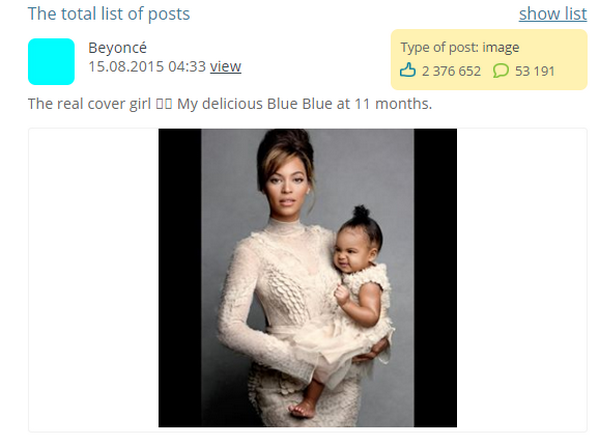 5. Ariana Grande
Top-Five finishes accounts Ariana Grande - American actress and singer. It is like 52,256,345 people. Here is the favorite position: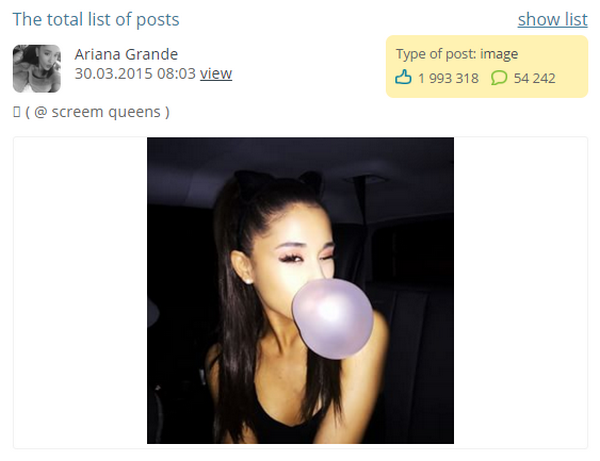 A little curious?
I decided to watch a popular post and here I found on Feedspy.
Here's one of my best posts. This is a photo of the bloody cosplay .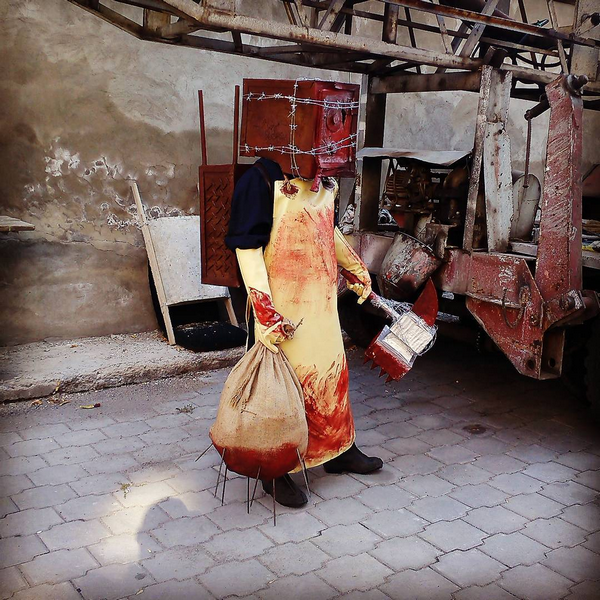 What is your top Instagram content?
So, if you want to see your top publishing and content on Twitter, Facebook and other social networks in your niche, try out Feedspy.
---